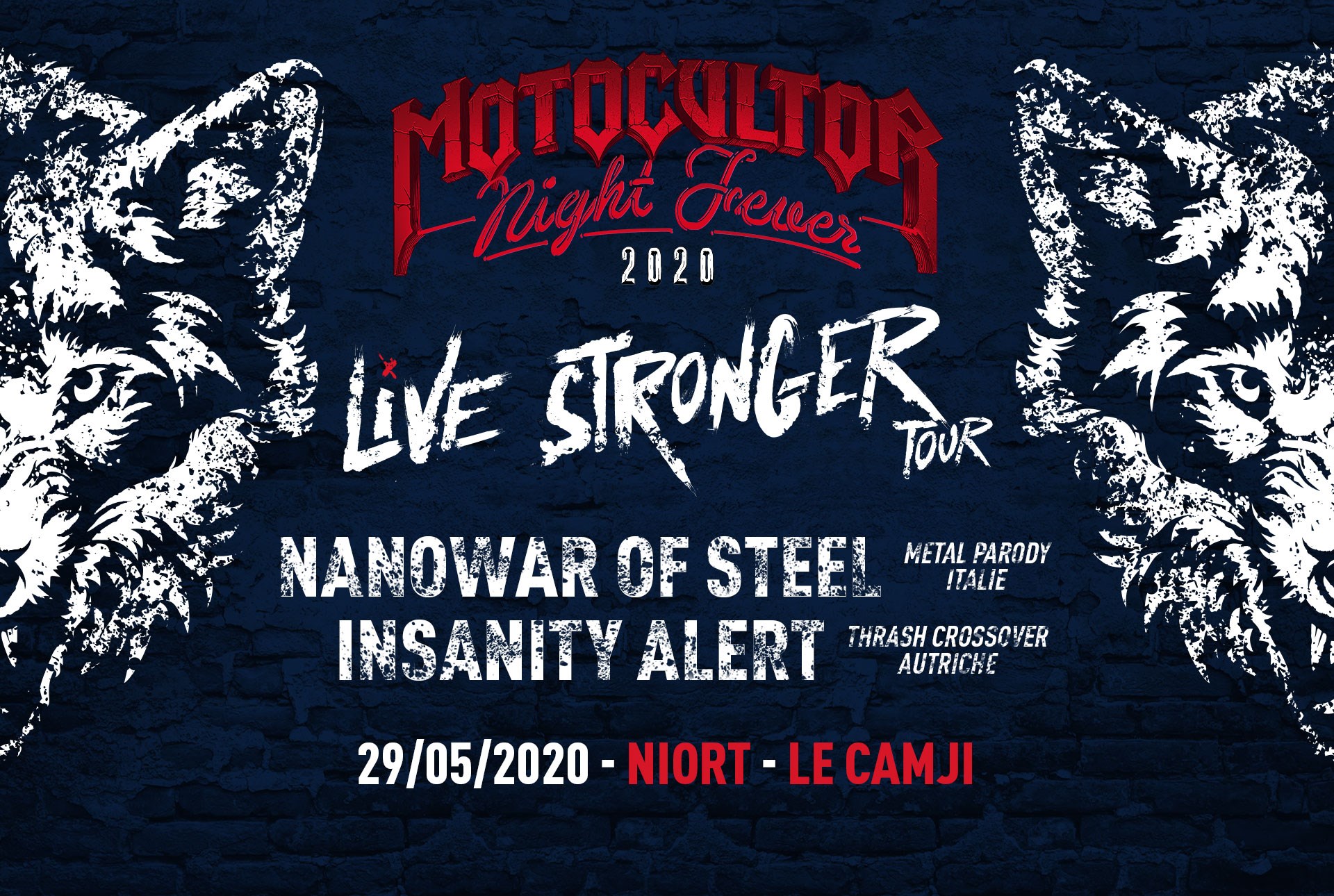 Motocultor Night Fever – Live Stronger Tour 2020 – ANNULÉ
Covid-19 : événement annulé
---
En partenariat avec Live Stronger et Rage Tour, le Motocultor Festival Open Air débarque à Niort pour une soirée exceptionnelle ! Le festival pose ses valises dans 7 villes Françaises dont Niort pour une tournée décalée et 100% Metal !
Des concerts avec Nanowar Of Steel et Insanity Alert, des pass festival à gagner, des cadeaux et des goodies Motocultor à chaque soirée et un merchandising exclusif "Motocultor Night Fever" x "Cosofdeath Cl. Co.".
7 villes, 7 dates, 7 soirées uniques à ne pas manquer ! Rejoins la meute Live Stronger x Motocultor Night Fever !
---
– CONCERTS :
Nanowar Of Steel | Metal parody – Italie
"We take parody very seriously !"
Tout est dit pour ce groupe qui musicalement n'aura aucune gêne à passer du speed metal au metalton (metal + reggaeton, style de leur invention). Ces Italiens dont les influences musicales oscillent entre l'hiver Norvégien et l'été Caraïbéen n'auront qu'un seul objectif sur cette soirée : vous faire danser / marrer jusqu'au bout de la nuit !
Pour les fans d'Ultra Vomit, Gloryhammer et Spinal Tap…
Insanity Alert | Thrash Crossover – Autriche
En seulement 3 albums et un nombre incalculable de concerts aussi fous les uns que les autres, les autrichiens se sont imposés comme LA valeur montante du crossover thrash en Europe.
Clin d'oeil à Iron Maiden, leur devise est simple : "Run to the pit, mosh for your life !"
Pour les fans de Suicidal Tendencies, Municipal Waste et D.R.I !
– SURPRISES :
Des pass pour le festival, des cadeaux "collector" et des goodies seront à gagner chaque soir sur toute la tournée.
– MERCHANDISING :
Des tee-shirts exclusifs "Motocultor Night Fever" seront disponibles sur chaque date, ainsi qu'un tirage collector ultra-limité en partenariat avec Cosofdeath Cl. Co.