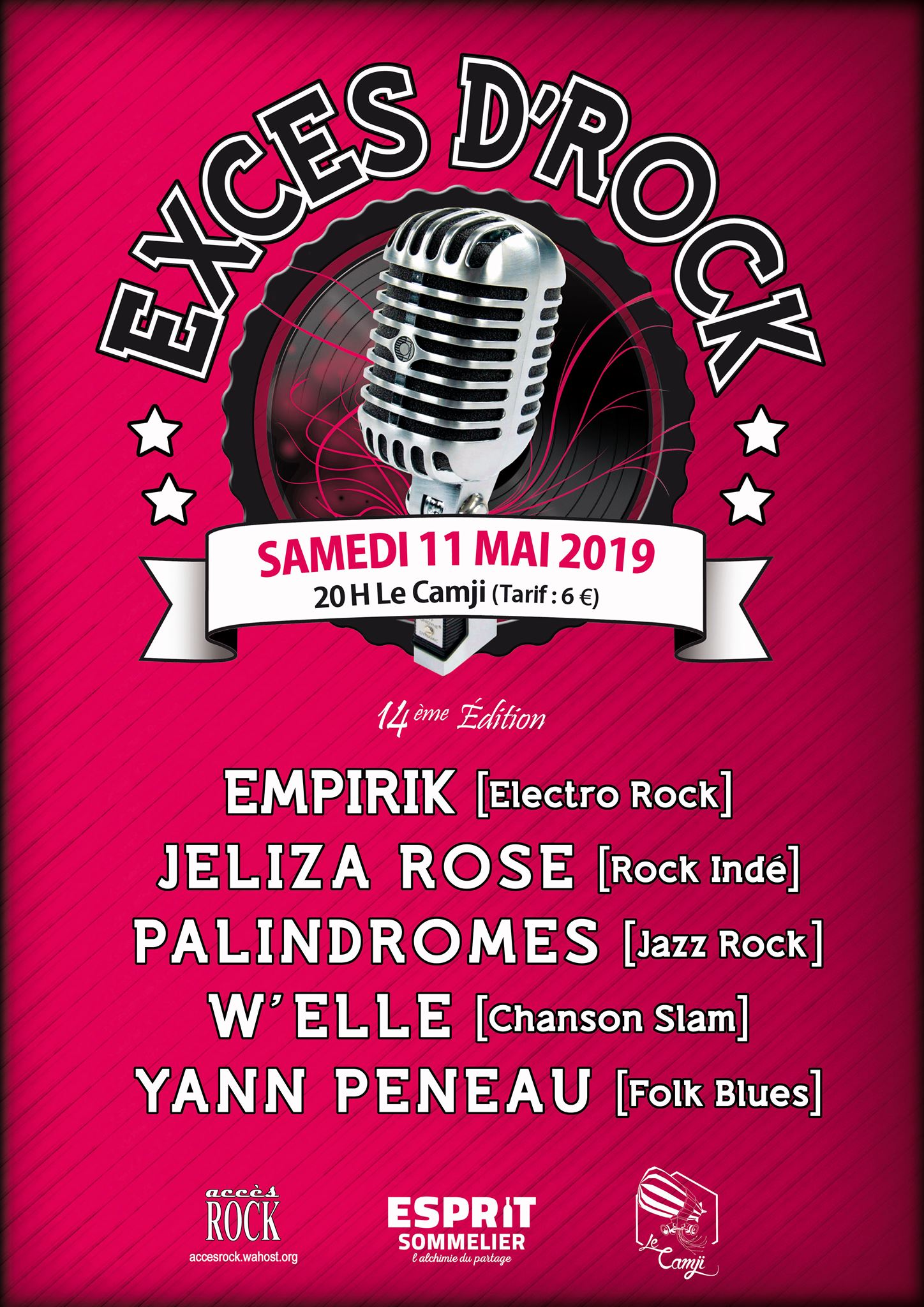 Excès d'Rock #14
Venez découvrir 5 groupes de la scène musicale du territoire.
Soirée proposée et co-organisée avec l'association Accès Rock.
EMPIRIK (Electro Rock)
EMPIRIK c'est une batterie, un chant, des claviers, une basse et guitare. Le groupe voit le jour en 2018 avec une forte envie de mélanger les influences pour créer un rock électro parfois mélancolique. D'une base acoustique mêlant claviers électroniques et samples, le groupe travaille sur son premier EP qui verra le jour fin 2019.
---
JELIZA ROSE (Rock Indé)
Dès les premières notes Jeliza Rose ne laisse pas de place au doute. On y trouve cette musique proche du post hardcore et de l'indie rock des 90's, hargneuse mais sucrée qui fait la joie des éternels adolescents. Jeliza Rose sort au printemps sa première démo enregistrée à Laval au studio Apiary (Bison Bisou, Throw me off the bridge, Birds in row)
---
PALINDROMES (Jazz Rock)
Palindromes, trio Jazz rock, prépare son second album 2019. Ce power trio s'inscrit dans la lignée des groupes fondateurs du jazz rock des années 70. Leur musique mêle compositions et improvisations qui parfois s'organisent en amplitude progressive à l'instar de groupes tels que King Crimson, Soft Machine et Hatfield And The North.
---
W'ELLE (Chanson Slam)
W'elle, c'est deux copains de lycée partageant la passion de la musique. Ce duo propose un mélange entre le slam et la chanson, un mélange de ses influences et de ses cultures. Un métissage musical rempli d'émotions !
---
YANN PENEAU (folk blues)
Né à Paris d'une famille d'artistes, entre comédie, peinture et poésie, Yann commence à gratter sa guitare à l'âge de 14 ans. Il commence à faire quelques concerts, accompagné de son harmonica. Ses compositions évoquent la chanson réaliste, le folk et le blues.
Tarif unique : 6€