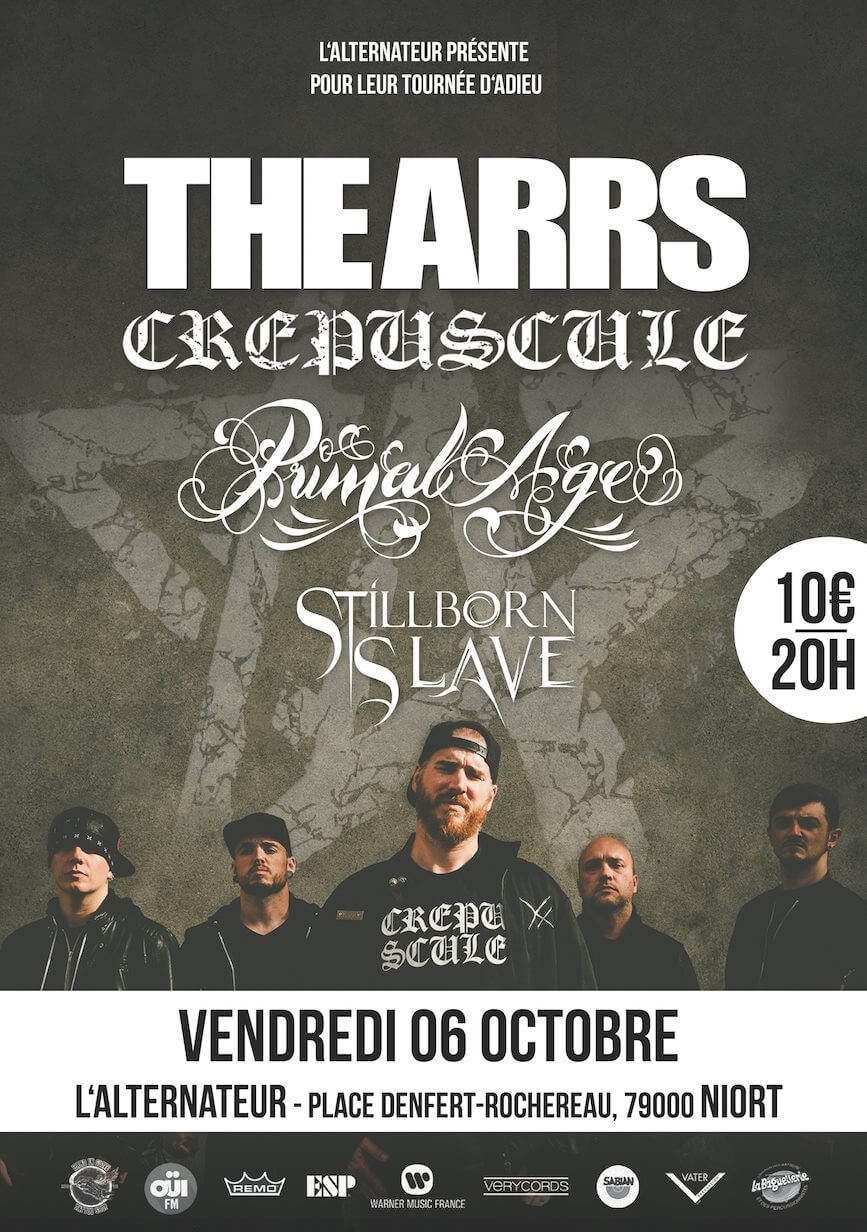 The ARRS + Primal Age + Steel Born Slave
Soirée Metal/Hardcore ce vendredi 6 octobre à partir de 20h00 à L'Alternateur !
The ARRS : Après plusieurs années à investir les scènes d'Ile-de-France, et une démo qui ne tarde pas de lui fonder une solide réputation, THE ARRS, groupe de metal hardcore Parisien sort de l'ombre en 2005 avec son premier album « …Et la douleur est la même » (Beat the all/PIAS). Les 10 titres furieux qui le composent sont très bien accueillis par le public et permettent au quintette d'être reconnu par ses pairs et les professionnels, et ainsi de réaliser une centaine de dates au travers l'Europe. La prestation remarquée sur la main stage du Furyfest 2005 confirmera le potentiel du groupe. Fort de sa notoriété naissante, THE ARRS sort son second album « Trinité » (Active Entertainment/PIAS) en 2007 et repart sur les routes avec toujours plus de pugnacité. C'est grâce à ses prestations scéniques, réputées ravageuses, que le groupe se retrouve une nouvelle fois au Hellfest aux côtés de grands groupes internationaux.
---
Primal Age : Primal Age, 3 tournées Européennes , 1 tournée au Mexique (2011), 1 tournée au Japon (2013), 1 tournée au Brésil (2015)
Multiples dates aux côtés de références telles que Hatebreed, Napalm Death, Converge All out war, Length of time, Nostromo, Turmoil, Caliban, Indecision, 25 Ta Life, Dagoba. Earth crisis, Madball etc… Une Tournée de 6 shows au Mexique en 2011. une Tournée de 5 shows au Japon 2013 avec un passage au plus gros évènements le Bloodaxe Festival a Tokyo, Une Tournée au Brésil de 4 shows en 2015. La reconnaissance des médias nationaux et internationaux comme étant parmi les premiers à fusionné le mélange metal et hardcore en France et Europe. côtés de groupes comme Kickback, Arkangel etc…
Reconnu pour son engagement pour la Défense Animal, l'écologie, le Végétarisme et le Véganisme.
---
Steel Born Slave : Le groupe voit le jour fin 2009. Après l'enregistrement d'une démo 3 titres et quelques concerts à travers la France,
Stillborn Slave part enregistrer son 1er album "Your Time Is Out" en avril 2012 pour une sortie 3 mois plus tard.
La rentrée 2012 sera marquée par de nombreux concert afin de faire connaitre sa musique et défendre son album sur toutes les scènes possibles. Début 2015 le groupe voit son Line Up complètement changé pour repartir sur des bases plus solide et essayer d'aller encore un peu plus loin ! Le groupe voit ses composition se tournée vers un genre plus Metalcore / Metal moderne pour être en adéquation avec les différentes influences du combo ! Suite a ce line up renouvelé, plusieurs concerts sont donner , comme aux cheminées du rock en 2015 en compagnie de groupes tels que dagoba ou encore headcharger. Un nouvel EP voit le jour en septembre 2016 pour faire connaître ce renouveau et espère bien dépoussiérer le genre et les a priori , tout en restant fidèles a la réputation du groupe !
---
Tarifs : 8€ sur résa // 10€ sur place